The Carol is a fairly unique boat, very similar to the Frances, but a bit smaller with flatter deadrise, and typically build flush decked. As far as I know, they were also all custom built and are all cold molded. Franceses, the bigger sister, were primarily built by Morris Yachts in Maine, the builders of very expensive and fancy boats, like this one:
Image from Morris yachts website. 
and this one:
While their modern boats are very nice, and all in the 6-7 figure range, they originally built a line of small cruising boats all designed by Chuck Paine. The Frances, the smallest of these commercially built designs, was also built by Victoria Yachts in England with an extended trunk cabin, although there are not many of these and they haven't held up as well as the excellent Morris boats. This is a tangent, but I was lucky enough to grow up on this great boat:
Lissome, the Frances that I grew up on, reaching along, I think in Australia in the mid 80s with my mom on the foredeck. 
And at anchor somewhere in BC or SE Alaska, with netting on the life lines to keep little me from falling overboard. 
So, those were professionally built boats with hand laid fiberglass hulls. They were built exceptionally well, but were really built for cruising in the relatively protected waters of Maine or the Pacific NW. A few people, like my parents, went a bit nuts and they have since been cruised all over the world. They did have some issues, like flexing bulkheads and the trunk cabin coming loose from the deck. Overall though, they are incredibly tough and well designed little boats from a unique and thoughtful designer, Chuck Paine. Most of the Frances' had small trunk cabins, however a good number were built flush decked. I don't know that I could tell a flush decked Frances from a Carol if I just saw it at the marina. A handful of Frances' were custom built either out of flexible fiberglass panels or cold molded in cedar, like our Carol.
Chuck Paine is still around and has a great blog where you can see his paintings, and read his musings on selling million dollar boats to wall street schmucks.
https://www.chuckpaine.com/blog/
The Carol was never commercially built, so I assume they were all cold molded, although some weird molding took place with fiberglass in the 80s. If you went out to build one of these boats today it would be prohibitively expensive, between labor, materials, and yard space. Most people wouldn't bother with it, but apparently the 70s and 80s were a bit different. She's a bit like glorified camping, with hunched headroom and a small cockpit. Two quarterberths and a cramped v-berth round out the accommodations.
The Carol arrangment from Chuck Paine's website: https://www.chuckpaine.com/boats/24-double-ended-voyager-carol/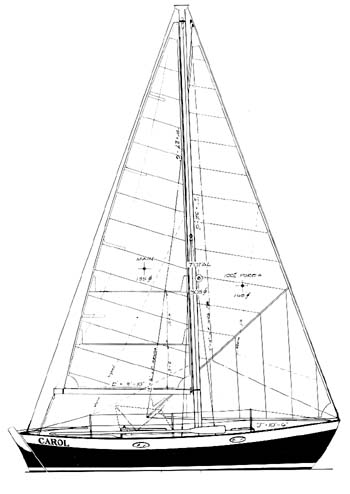 And her sailplan, with the genoa and yankee jib drawn in. We had a yankee made to these dimensions. He also drew in the sculling oar, which is on the want to-do list. Also with credit to Chuck Paine's website: https://www.chuckpaine.com/boats/24-double-ended-voyager-carol/